LEDIG STILLING VED AHO
Associate professor / Assistant professor in Interaction Design - 100% permanent position
Deadline: 22.06.2021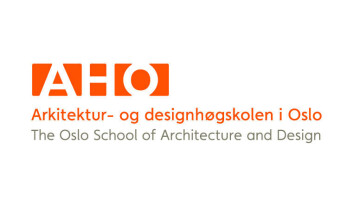 Oslo School of Architecture and Design
The Oslo School of Architecture and Design (AHO) is an internationally leading, specialized university within the disciplines design, architecture, landscape architecture and urbanism. AHO offers a unique research-based education of international standing. Established in 1945, today it has built a solid national funding base and is prominently ranked internationally. AHO awards three Master's degrees in Architecture, Landscape Architecture, and Design, as well as a PhD programme. AHO offers Master's degree programmes that are designed to best equip the student to enter directly into professional practice or academia. Within the Master's programmes, students may specialise in the fields of architecture, landscape architecture and urbanism, industrial design, interaction design, service and systems-oriented design. In its education, the school follows a studio-based model with a low faculty-to-student ratio that encourages individual development and collaboration. The school has approximately 700 students and 145 employees.

The Institute of Design (IDE) at AHO is one of the leading Nordic design-institutions. The Institute of Design is responsible for AHO's 5-year integrated Master-programme in Design and has a broad portfolio of research projects that connects across disciplines and domains. The institute takes a broad, holistic approach to design that emphasizes the relevance and importance of design within contemporary society. Our perspective is that good design creates aesthetic and functional products, services and experiences that delight and improve the lives of people and contribute to a sustainable future. The institute develops research and teaching within and across the fields of industrial design, interaction design, service design, and systems oriented design.

IDE collaborates closely with industry, public sector and governance, and is an important actor in research- and innovation-projects. The institute has an extensive international and national network across industry and academia, covering both the growing digital sector, as well as established areas such as healthcare, maritime industry, future-studies and innovation, and service development in the public and private sector. AHO's design alumni are found in leading design studios and consultancies, in tech-companies, in industry, in research and innovation projects, as well as in policy and governance. The Institute of Design is internationally recognized and highly ranked; projects from the institute are frequently represented in national and international design awards.

The Institute of Design is growing and will expand the number of faculty extensively over the next few years. To meet the growing demand for designers in Norway, the Ministry of Education and Research granted AHO funding for 30 new student places in design in 2020. The size of the 5-year integrated Master programme in design will double, going from 30 to 60 students per year. This means that the Institute of Design is going through a unique and exciting transition - developing new curriculum, new research, and hiring new staff. In this process it is central for us that we develop and maintain a staff with a diverse and balanced mix of gender, age and social and cultural background. Women and persons with a minority background are particularly encouraged to apply for this position. AHO is eager to support career development.
About the position
The Institute of Design at The Oslo School of Architecture and Design (AHO) calIs for application for a full-time, permanent position as an Associate/ Assistant professor in interaction design.
Interaction design is one of the main domains at the Institute of Design. Interaction design is an integrated part of the 5-year Master programme in design and an important part of the institute's research-portfolio. AHO was one of the first design schools in the Nordics to develop an interaction design curriculum, and has been a leading contributor to research and innovation within this field for two decades. Interaction design at AHO has been developed and taught alongside service- and industrial-design, as well as systems oriented-design, giving interaction design at AHO a unique interdisciplinary profile. The interaction design team at AHO collaborates closely with the growing digital sector in Norway, and has an extensive international network across academia and industry. AHO has been at the forefront of developing curriculum, research and innovation within areas such as the maritime industry, digital cities and societies, future studies, tangible interactions, healthcare and technology. Alongside our service design team, interaction design at AHO have been central in building knowledge and educating designers that are taking part in developing digital services in both the public and private sector.
The Institute of Design at AHO is expanding and has a growing demand for staff over the next few years. We have several positions within interaction design out for the spring of 2021. If you are interested in becoming part of our team, but don't think this position is a good fit for you, please see our other calls or contact us directly (info below). We also welcome you to apply to several of the calls if that is relevant.
We are looking for a highly motivated person that wants to be a part of our interaction design team as a full-time, permanent associate/ assistant professor. We are looking for an interaction designer and educator with a broad profile and experience from a range of digital design projects, preferably both commercial and artistic/experimental. The applicant should have experience with design- and technology-thematics from across the digital sector. The person should have extensive generalist competency as an interaction designer, as well as experience from creative exploration and concept development with emerging technologies. In particular, we are seeking someone with a solid foundation in designing for Web, mobile and screen-based user experiences, as well as experiences in conceptualizing, critiquing and developing digital services and interactions. A broader design-background that also covers fields such as service or industrial design would be valuable.
We are interested in a practiced designer with a strong portfolio who is also an accomplished educator with experience from teaching design on Master- and undergraduate-level. This position will be responsible for teaching and developing interaction design courses for Master and undergraduate students. Experience in practice-led and studio-based teaching in a design school will be prioritized. The person in this position will also be expected to take part in, and contribute to, practice-based research and innovation projects at the institute and/or developing new projects.
If possibilities allow for this, we might hire more than one person for this position.
Responsibilities
Developing and teaching studio-based undergraduate and Master courses with a focus on interaction design in the intersection of Web, screens and new technologies, building on exploration, creativity and prototyping
Developing new projects and curriculum that contributes to AHO's 5-year Master in Design
Contribute to developing practice-based research, innovation and dissemination projects
Develop collaborations and networks with external partners
Developing teaching and research- and development-projects of high quality and ambition.
Communication and dissemination of outcomes of teaching-, research- or development projects towards relevant national and international arenas
Participation in administrative work
Qualifications
Information on general qualification requirements for appointment to an Associate professor/Assistant professor on the basis of artistic qualifications can be read here: Regulations No 129 of 9 February 2006 . Those qualified for appointment as an Associate Professor (§1-4) are a person who has demonstrated (minimum 200 hours) teaching expertise, has documented artistic or development work at a high international level and with a special specialization that is relevant to the subject area or discipline, and the position and the duties it will involve.
The applicant must document extensive practice from, and a high level of knowledge of, interaction design.
The applicant must document extensive experience from developing digital design projects in professional settings.
The applications must document experience from design-led pedagogy and teaching
Excellent written and spoken English is a requirement, while fluency in a Scandinavian language is recommended and will be prioritized.
The position require residency in the Oslo region.
Personal skills
Excellent pedagogic skills and related experience
Outstanding collaboration and communication skills
Innovative, proactive and solution-oriented perspectives and approaches
The ability to engage students and colleagues
Being able to support and flourish in an ambitious atmosphere with periods of high work intensity
Personal suitability for the position will weigh in.
We offer
An outstanding stimulating and international professional research and teaching environment
Depending on qualification, the position is placed in government pay scale, position code 1009 Assistant Professor, or code 1011 Associate Professor
Membership in the Norwegian Public Service Pension Fund (a monthly deduction of 2% of gross salary will be made as a contribution to the fund)
Standard terms applicable for the position
In the light of a personnel policy aiming at a working staff which reflects the composition of the population in general, as regards gender and cultural diversity, women and persons with a minority background are particularly encouraged to apply for the position. AHO is eager to support career development.
Application
As the application is to be assessed by an expert committee, applicants are asked to submit a documented, extensive overview of their design practice, teaching and all other activities of relevance to the position § 1-4.
The application must include:
A cover letter stating motivation for the position, that also summarize teaching experience and future ambitions for disciplinary and pedagogical development. The motivation-letter should also include a reflection on the applicant's pedagogical approach.
A CV
A list of design practice/ teaching experience / publications / other qualifying works that are to be considered in the application
Portfolio that shows a range of professionally practice and projects that are relevant to the position (can be online)
Certificates/ diplomas
A list of 2-3 references
The applicant is responsible for documenting all aspects of his/her competence in the application. Application with attachments must be submitted via our online recruitment system jobbnorge.no. Please note that all documentation must be in English or a Scandinavian language.
The applicants will be assessed based on professional and/or artistic practice, but academic experience will count into a holistic assessment of the candidate's competence. The evaluation committee will assess applicants for both the announced permanent positions in interaction design. If the opportunity arises, the institute wishes to employ more than one person for one of the position.
At AHO the positions as associate professor is typically distributed within three main components; teaching, research and development, and administrative tasks. The balance between the components will be agreed upon at the conclusion of the contract.
The application deadline is June 22th 2021.
Contact information
Question can be directed to:
Head of Institute Rachel Troye at phone: email: [email protected] or +47 90580905, or

Chair of Interaction Design Einar Sneve Martinussen at phone: email: [email protected], or +47 48076201
General information about AHO at www.aho.no.