Ledig stilling ved AHO
Postdoctoral position in Design
Deadline: 07.08.2020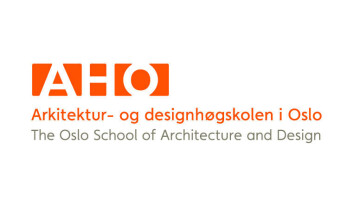 Oslo School of Architecture and Design
The Oslo School of Architecture and Design (AHO) is a specialized university and a leading international architecture and design school that provides education within architecture, landscape architecture, urbanism and design. AHOs fields of knowledge focus on design in all scales, objects, buildings, urban areas and landscaping as well as with participants, stakeholders and transformation strategies and processes. AHO is organized into four institutes, and has approximately 740 students and 145 employees. Strategic investments from the Ministry of Education in Norway in the wake of COVID-19, has resulted in this call towards autumn 2020 and a doubling of Designs master?s programme intake.

The Institute of Design adopts a broad, holistic approach to design that emphasizes the relevance and importance of design within contemporary society. We teach and research within the fields of industrial design, interaction design, service design, and systems oriented design, as well as themes that cross these disciplines, such as healthcare or the maritime industry. Our perspective is that good design creates aesthetic and functional products, services, and experiences that delight and improve the value in use for participants and organisations,for near, mid and long term sustainable futures.
Context
The Institute of Design at AHO welcomes applications for the position of a three year, full-time Postdoctoral Researcher as a key contribution to our transdisciplinary research. This is research that is centred on design-based inquiry in the contexts of a changing world where sustainability is a critical need and strategic goal for AHO. The successful applicant will join a vibrant research and educational design institute and contribute to the research within and across projects, as well as initiating new research.
The position requires connecting with colleagues and projects and interests and is not a stand-alone Postdoctorate. We are motivated to include the successful applicant as a lively part of our research teams and activities. While this is not a teaching position, inputs may be made to teaching from research as is our tradition.
Funding has been provided by the Norwegian Ministry of Education as a unique contribution to meeting the needs of our current challenging context. The Institute of Design is therefore entering a period of growth, doubling the number of students in the Master of Design programme and strengthening our research group and research portfolio to support excellence in research and education.
Research at the Institute of Design focuses on research in, through and for design that recognises and seeks to meet current societal challenges, complex systems and conditions. To do this asks that we face the climate emergency and emerging, urgent and complex challenges through our Design teaching and research. With ?shaping futures' as central to our research and teaching, we seek to overcome earlier modernist notions and practices of ?Design as progress' at the clear cost, for example, to the environment and sustainable well being.
As Design research has grown into a domain of situated making with transdisciplinary reflection we increasingly see opportunities to build deeper and more resilient conceptual and analytical models, tools and processes to support meaningful and resilient long-term change that is responsive to needs and settings. We also seek to look beyond perceptions and perspectives to support lasting innovation and dynamic and engaged participation.
Potential Themes
You are invited to submit a proposal for this Postdoctoral position that would address one or more of the following five strategic themes at the Institute:
Design, Participation & Power
Scandinavia has a long history of participatory design processes that have been confronting power imbalances in different contexts. As practices of participatory design and co-design are taken up across a variety of industries, in the public sector and within communities, there is a need for a more critical and nuanced analysis of how power dynamics play out within such processes. The design for, of, and by democracy discourse may be an important metaperspective. Furthermore, there is a need for practical tools and approaches to support designers in more thoughtfully and strategically addressing issues of power in their work. Through an exploration of cases, conducting research through design, and/or drawing on critical theory, your research would help to strengthen the basis of the understanding of power in participatory design and design processes more broadly. The aim of this research would be to enhance the power literacy among both design scholars and practitioners.
For more information, please contact:
Aesthetics & Visualisation
The Postdoc that will examine and develop the field of aesthetics and visualization for design practitioners and researchers. The postdoc will work across the Institute and the outcome is to lift the discourse and practicing level of aesthetics and visualization in pedagogies at Design from BA to PhD. The Postdoc must be able to position their own aesthetic practice in a cultural and theoretical landscape that crosses over a range of design disciplines. The postdoc may come from diverse backgrounds such as product and graphic design to interactive media design.
For more information, please contact:
Design Pedagogy
The institute wishes to develop research on design pedagogy - building on the strong studio and research-based teaching we have today at AHO. To examine our signature pedagogies at a conceptual and theoretical level as a vital part of expanding upon our unique Nordic position. The main pragmatic and pedagogical outcome is to lift the discourse and practicing level of our teaching at Design securing our autonomy and thereby also enable a strengthening of our collaborations with other institutions. The main research outcome is to develop knowledge about design pedagogy and its workings and needs, augment existing approaches and conceptualizations and position IDE as a leading venue for this work.
For more information, please contact:
Futures Design & Scenarios
This Postdoctorate would be a cornerstone in IDEs growing international profile and anthropocene situated futures research. The post doc would generate new basic research within a design based approach to anticipatory systems and studies and connect with a diversity of futures related views and ongoing research in funded projects. The thematic focus will be on the role of scenarios in shaping and consolidating futures design research and practices that draws the design centred imaginary into situated present daily life and work. The goal is to consolidate and extend design views on foresight and anticipation views and develop a set of tangible actionable tools and participative results in use in situated interactions. On AHO's strategic goals, the aim is to answer acute and imminent needs on complexity, consumption and viable alternatives for sustainable daily living and work.
For more information, please contact:
Design, long-term sustainability, climate change and futuresThe proposed Postdoctorate will develop research for and through design practice. Placed in the intersection of two research groups, ReFuturing Studio and the Ocean Industries Concept Lab, the research will explore how design practice most efficiently can address climate change and stimulate global long-term sustainable development. Due to our present urgency, focus will be on radical but quite short-term solutions, that might (but not have to) use more far future scenarios to reveal alternative opportunities and directions. The outcomes should aim to be immediately useful for the design profession, its education and the global society at large.
For more information, please contact:
Related responsibilities
In this postdoctoral position you will be expected to primarily develop substantive research and take part in the research environment at the Institute and at AHO. This is not a teaching position. Through the position you will also be encouraged to develop towards senior researcher or professor qualifications. Related responsibilities may include research leadership and strategizing, fund raising, building and managing a research portfolio, academic and societal collaboration and impactful outreach, supervision and teaching.
Formal requirements
Applicants are required to meet the following requirements.
You must at least hold a doctoral degree as well as a master's degree or equivalent in a field of relevance for the call is required. Especially relevant are applicants with degrees comparable with the disciplines in the Institute of Design at AHO.
You should have an excellent design portfolio plus a visible academic publication track record, with strong motivation and commitment to creative solution finding based on academic research inquiry. Professional practice and field-work experience should also be prominent in your profile.
Applicants who do not have English or Scandinavian language as their mother tongue must submit documentation of their proficiency in English by the deadline of the application (TOEFL test or similar). Students with university studies where English comprised the major component of the studies are exempted from the requirement.
Additional qualifications that we value in an application are: design and research teaching experience; a willingness and capacity to work with others in complex transdisciplinary inquiry and processes; and experience in communicating research activities, results and outcomes to diverse audiences.
The application must include:
A letter of motivation describing why the applicant is qualified for this position (maximum two A4 pages)
Submit a formal design research proposal (max 2 000 words excluding references)
Applicants are expected to develop his or her research career and the project description shall include career development goals for the appointment period and how the project supports these
Provide a design research CV with a full summary of education, practice and academic employment
Provide a portfolio (research and design projects)
Copies of educational certificates (foreign applicants must attach an explanation of their university's grading system)
Complete list of max 10 research publications that the applicant wishes to be considered by the evaluation committee
Please note that all documentation must be in English (or a Scandinavian language).
Include 3 written references in support of your application.
Application formalities
This position formally needs to be filled by the latest the beginning of 2021. Short listed candidates will likely be interviewed between 17 September and 30 September 2020.
Please note that this position requires residency in Oslo from early 2021.
Applications are to be made directly at www.jobbnorge.no (www.jobbnorge.no)
The application deadline is August 21st 2020.
Evaluation criteria
Applications will be evaluated according the following criteria:
the formal academic requirements for the position
the quality of the project description and its relevance for the call
the academic competence of the applicant
the applicant's professional experience including design
the applicant's motivation for building a research theme and a career at AHO, and
her/his suitability within the context of the Institute's research environment.
Terms & conditions
The Postdoctoral position ( position code 1352) is fully funded for a 3 year period from the date of commencement
The salary is in the range of NOK 532 300 - 640 200,- for a full position, according to relevant experience. In special cases higher salary may be considered. From the salary, there will be a mandatory deduction of 2% as a contribution to the State Pension fund (SPK). Standard employment conditions for state employees in Norway apply for the position, including health care.
Office space and a personal computer are provided.
Contact
For further information please contact