Ledig stilling ved AHO
PhD - Architecture and mediation: publications, exhibitions, archives
Søknadsfrist: 10.05.2020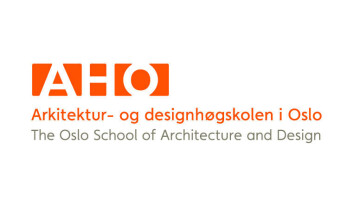 ANNUAL AHO PHD CALL 2020
Architecture and mediation: publications, exhibitions, archives.
The Oslo Centre for Critical Architectural Studies (OCCAS) at AHO, solicits applicants with strong and original project ideas within humanities-based architectural research. In particular, we look for projects that link to OCCAS' work on interpretation, criticism, and mediation.
Oslo School of Architecture and Design
The Oslo School of Architecture and Design (AHO) is a specialized university and a leading international architecture and design school that provides education within architecture, landscape architecture, urbanism and design. AHOs fields of knowledge focus on design in all scales; objects, buildings, urban areas and landscaping. AHO is organized into four institutes, and has approx. 740 students and 145 employees.

The Institute of Form, Theory and History (FTH) teaches and researches architecture, architectural history and building heritage. The FTH faculty —counting approximately 30 architects, architectural historians, artists, and philosophers — engages on all academic levels: Undergraduate and graduate levels, and has a particular responsibility for the PhD program. FTH offers an executive Master in Building Heritage, as well as a Nordic executive Master in Architectural Heritage (NORMAK), a collaboration of Architecture School in the Nordic countries. The Oslo Centre for Critical Architectural Studies(OCCAS) is part of FTH.
OCCAS has recently focused on the relationship between architecture and print culture in modern Europe, 1700 to the present. We are particularly interested in the way architectural debate in public and professional media (exhibitions, newspapers, journals, magazines, catalogues, guidebooks, advertising, etc.) impacts architectural thinking, production, and preservation, and how architecture becomes a site for discussion, negotiation and contestation of larger cultural issues.
Investigation may also comprise publication and exhibition history, historiography, and architectural criticism, addressing issues such as the techniques, formatting and circulation of architectural representation and the relationship between buildings and their mediation, be it on paper or in galleries. We ask for PhD proposals that explore aspects of these issues, drawing on a well-defined historical material from the above-mentioned period. The proposals must have clear research questions and a defined archival material. For more information about OCCAS' work in this area, see http://occas.aho.no/; https://theprintedandthebuilt.wordpress.com/; and http://priarc.aho.no/
Academic requirements
Candidates must have the following qualifications:
a Master's degree in architecture, landscape architecture, urban design, architectural history or theory, or related disciplines.
Candidates who do not have English or a Scandinavian language as their mother tongue, or who do not hold a Masters Degree where the study language is English or a Scandinavian language, must submit documentation of their proficiency in English.
Evaluation criteria
Applications will be evaluated based on:
The quality of the work presented in the project proposal/position paper
The formulation of a research question
The formal academic requirements for the position
The academic competence of the applicant and the applicant's suitability within the context of the institute's educational environment.
Application
To be considered for the position please upload the following:
A cover letter (Maximum 2 A4 pages)
A Curriculum Vitae (Maximum 4 A4 pages. The cv may provide links to additional online resource demonstrating your capabilities or other relevant sources)
A project proposal (Max 1500 words, illustrated)
An example of your academic writing (3000-5000 words)
Copies of Masters Degree certificate(s)
Please apply directly at www.jobbnorge.no
The application deadline is May 10 2020
Enquiries about this position should be directed to Professor Mari Hvattum, [email protected]
Conditions
The PhD fellowship is fully funded and there is no tuition fee.
The salary is NOK 479 600 for a full position, extensive relevant experience can give a higher start salary. From the salary, there will be a mandatory deduction of 2% as a contribution to the State Pension fund (SPK). Standard employment conditions for state employees in Norway apply for the position.
An annual sum of 20 000 NOK is provided for literature and other necessary academic activities. Office space and personal computer provided.
The fellowship offer is conditional on the applicant being accepted to the AHO Phd Programme.
The educational component in the AHO PhD Programme is mandatory and requires fulltime attendance. Residency in Oslo for the employment period is mandatory except where secondments in other institutions are agreed as part of the fellowship position.
The PhD fellowship will start on September 1 2020 if not otherwise agreed upon.
More information about the PhD Programme at AHO can be found at https://aho.no/en/content/phd-program.
For questions about the AHO PhD Programme contact: