LEDIG STILLING VED ARKITEKTUR- OG DESIGNHØGSKOLEN I OSLO (AHO)
PhD - Design Aesthetics
Deadline: 14.03.2021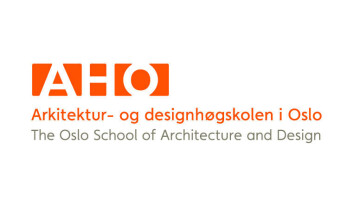 Oslo School of Architecture and Design
The Oslo School of Architecture and Design (AHO) is a specialized university and a leading international architecture and design school that provides education within architecture, landscape architecture, urbanism and design. AHOs fields of knowledge focus on design in all scales, objects, buildings, urban areas and landscaping. AHO is organized into four institutes, and has approx. 700 students and 145 employees.

The Institute of Design adopts a broad, holistic approach to design that emphasizes the relevance and importance of design within contemporary society. We teach and research within the fields of industrial design, interaction design, service design, and systems oriented design, as well as themes that cross these disciplines, such as healthcare or the maritime industry. Our perspective is that good design creates aesthetic and functional products, services, and experiences that delight and improve the value in use for participants and organisations,for near, mid and long term sustainable futures.
Oslo School of Architecture and Design - ANNUAL AHO PHD CALL 2021
About the position
The Institute of Design at The Oslo School of Architecture and Design announces a fully funded PhD position for the period 2021-2024/2025 with a research theme of digital aesthetics. The aim of the PhD research is to contribute to a contemporary discourse on aesthetics for and in design research, education and practice.
Interactive, digital design practices are increasingly relevant and influential across all design disciplines, but its aesthetics is under-researched in relation to design practice and pedagogy. Due to this, our call asks for research proposals that will examine and develop the field of applied aesthetics for design researchers and practitioners across interactive digital design - applied aesthetics as it deals with situating aesthetics theory and principles for design processes. The PhD must be able to position aesthetic practice and analysis in a cultural and theoretical landscape that crosses over a range of design disciplines.
We envisage a mixed method approach aligned to the current research at the interaction design group - supported by strict case methodology - supervised by the group's project leaders. These methods will be both specific to the PhD fellow's design investigations as well as relevant cases from ongoing research projects at the institute (e.g. Ocean Industries Concept Lab, Digital Urban Living, Perform project - see designresearch.no). We welcome proposals that are able to inquire into the state of art performance of aesthetic practice, within the frame of multidisciplinary design.
The PhD would be situated with the interaction design group at IDE which is actively researching across a wide set of topics - The Centre for Design Research: designresearch.no. As such the PhD will engage across the Institute, where we see a need for aesthetic-led enquiries and articulations.
The PhD could include themes such as:
Aesthetics for experience and engagement
Aesthetics for information visualization
Aesthetics for digital services
Aesthetics for multimodal interaction
Aesthetics for specialised contexts such as commercial or public services, health or maritime
Aesthetic evaluation, critique and theory for developing practice
The Institute of Design is one of the leading institutions in the emerging digital design disciplines and we see it is as essential to fund such research on aesthetics. Aesthetics and form-giving is at the core of AHO's pedagogy as well as being central in the research performed at the school. The PhD will articulate and develop a fundamental expertise and pedagogy thus contributing to a strengthening of the school's core values and activities. Aesthetics in digital design is increasingly relevant across disciplines of design as well as in architecture, landscape and urbanisms and we encourage collaboration across the school as part of the PhD.
On the Candidate
The applicant must demonstrate the ability to articulate and argue for research proposals in the application and interviews. We will seek applicants from the design fields with practice-oriented background relevant to the thematics of the call, with experience of research methods and concept development at least at Masters level. The application could equally be open to more theoretically oriented candidates with a background from design studies or humaniora, with a strong knowledge of contemporary design practices.
Enquiries about this position should be directed to the supervisors:
Requirements
The candidate should have a master degree in interaction design, industrial design, graphical design or equivalent
The candidate should deliver a portfolio demonstrating competence in interactive digital design
The candidate should document past experience with writing and presentations
The application must include
An application letter describing relevant background, motivation, research experience and network. (Maximum two A4 pages)
A project proposal outline of maximum 5 pages, formulating and discussing research tasks, types of problems and methodology
A Curriculum Vitae (Maximum 4 A4 pages. The CV may provide links to additional online resource demonstrating your capabilities or other relevant sources)
Certified copies of educational certificates, transcript of records, diplomas and letters of recommendation
List of publications and/or academic work
Examples of work written by the applicant (Maximum three works)
A portfolio that documents relevant practice within design (can be online)
2 references (name, relation to candidate, e-mail address and telephone number)
Please note that all documentation must be in English or a Scandinavian language. Applications who do not fulfil the formal requirements will not be considered. Attachments beyond the required documents will not be taken into consideration.
The material for the PhD application will be assessed according to the following criteria:
The quality of the project description (proposal outline)
The applicant's suitability for the research tasks
The academic competence of the applicant
Relevance and quality of the design portfolio
We offer
The PhD scholarship is fully funded and there is no tuition fee.
The position (SKO1017) has a pay grade of 54 with salary NOK 482 200 per year for a full position; extensive relevant experience can give a higher start salary. From the salary, there will be a mandatory deduction of 2 % as a contribution to the State Pension fund (SPK). Standard employment conditions for state employees in Norway apply for the position.
An annual sum of 20 000 NOK for literature and other necessary academic activities.
Office space in a professionally stimulating working environment.
Attractive welfare benefits and generous pension agreement, in addition to Oslo's family-friendly environment with its rich opportunities for culture and outdoor activities.
Formal regulations
The educational component in the AHO PhD Programme is mandatory and requires fulltime attendance. Residency in Oslo for the employment period is mandatory. Research stay at a relevant international academic institution is encouraged. The PhD fellowship will start September 1th 2021.