LEDIG STILLING VED NORD UNIVERSITET
PostDoc in entrepreneurship
Deadline: 31.08.2022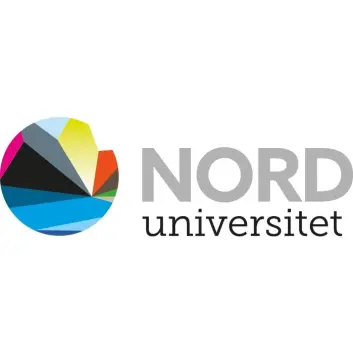 Nord University
Through research, education and social engagement, Nord University contributes to the creation of a sustainable future.In cooperation with society, business and industry in Northern and Central Norway, our 11,500 students and 1,350 staff promote innovative solutions and knowledge-based practice, both locally and internationally.

Nord University has four strategic focus areas: blue and green growth, sustainable innovation and entrepreneurship, societal security, and health, welfare and education.

Nord University Business School (HHN) educates the economists, managers and innovators of tomorrow.
The Business School provides relevant education and research holding international level through its close cooperation with business, public management and society. The Faculty offers a PhD in Business. Nord University Business School has 2,800 students and 230 employees. The professional community is organised into the following divisions: Innovation and Entrepreneurship; Market, Organisation and Management; Economic Analysis and Accounting, and Traffic.

Read more: www.nord.no/hhn
Are you professionally curious, analytical and structured? Do you want to be involved in developing research and education in a leading academic environment? Nord University Business School currently has a vacant 4-year position as PostDoc in entrepreneurship connected to SFU Engage – Centre for Engaged Education through Entrepreneurship.
About the position
Nord University Business School invites applications for the position of PostDoc in Entrepreneurship with a focus on Entrepreneurship Education. The position is part of the Innovation and Entrepreneurship Division, which employs more than 50 people, from PhD students to professors, and is recognized internationally as the leading entrepreneurship group in Norway. The candidate will be part of Engage – Center for engaged education through entrepreneurship, which is awarded the status as Center for Excellence in education Initiative (SFU)- one of 12 centres for excellent education in Norway. The centre is a consortium between NTNU and Nord University that was established in 2017 and awarded status as excellence based on the partners' long tradition of entrepreneurship education combining theory and practice. In 2020, the centre was through an extensive review, and the committee's report states that the centre is of world leading quality. During the centre's first five years, Engage has developed extensive activity in research, education and extra-curricular activities in entrepreneurship. SFU Engage's vision is to enable universities in educating future change agents with entrepreneurial skills and the mindset to make a change for the better.
As a Postdoc in Engage you will conduct research on issues connected to or with relevance for entrepreneurial education.
The following topics are particularly relevant:
Entrepreneurial mindset and entrepreneurial skills. Which mindset and skills are important to develop entrepreneurial behaviour, and how can these be affected through education and student driven activities?
Entrepreneurial ecosystems. What effect do entrepreneurial ecosystems have on the development of entrepreneurial behaviour, and how can such context be fostered and developed?
Development of student-based start-ups. Venture creation programmes, where students use their own start-ups in the educational efforts, are increasing in numbers over the latter years. How can student-based start-ups develop their resources and obtain legitimacy to be able to solve future societal problems?
Sustainability. How can entrepreneurs and entrepreneurial behaviour contribute to a more sustainable world, and how can sustainability be developed through entrepreneurship education?
The Postdoc can study specific disciplines, physical contexts, student groups or methods and tools for educators. Regardless of topic, qualitative, quantitative or experimental methods may be applied. As a PostDoc, you will be part of a research group consisting of other researchers working on projects related to yours, enabling you to participate in research collaborations. There are also opportunities to use and combine data which already are collected in the centre. In the project proposal, the applicants must demonstrate how the described topics are addressed. It is an advantage if the topic is related to ongoing centre activities, context and/or the partners' expertise. In the project proposal, the applicant must demonstrate how the research can be relevant and have implications for educators and students.
The position is ideal for a person that wants to develop a strong network and publication track record in these areas. Excellent conditions for research including funding for travel and student assistants can be expected for motivated candidates.
Although the primary duties of the position(s) are within research, the candidate is expected to be active member of the Business School's faculty, including teaching, outreach and administrative responsibilities. The contract will be for a 4-year period with a 25% dedicated to practical work in SFU Engage. Examples of such tasks may be developing courses and tools for lecturers, communicating research results from the center, teaching, supervision and supporting student's entrepreneurship initiatives. The candidate is required to maintain a working presence at the Business School's offices in Bodø, a growing university city (visitbodo.com).
Qualification requirements
The applicant must hold a Norwegian PhD or an equivalent degree within entrepreneurship or similar fields of relevance to the position, or must have submitted his/her doctoral thesis for assessment prior to the application deadline. It is a condition for employment that the degree of PhD has been awarded
Experience in entrepreneurship research, or related areas.
Proficiency in both written and oral English
A feasible project plan, including publication of scientific articles. The plan must contain research ideas that in their content and/or research method differ from the candidate's doctoral thesis.
Advantageous, but not strict requirements:
Experience from acquisition and working om exterally funded research projects.
Documented pedagogical skills as well as experience from teaching, contribution to academic research and project work will be considered an advantage
Knowledge of Norwegian or an equivalent Scandinavian language is not required, but considered an advantage.
Qualified applicants will be ranked according to the following criteria:
In addition to the qualification requirements, emphasis will be placed on:
Documented ability and motivation to conduct research and publish at an international level
Ability to work both independently and in close collaboration with others in a structured manner
Personal communication skills to interact with both the academic and the industry environment
Personal suitability and motivation for the position.
We offer
Postdoctoral candidates are placed in code 1352, and are normally remunerated at gross from NOK 553 500 per annum before tax, depending on qualifications and seniority. From the salary, 2 % is deducted as a contribution to the Norwegian Public Service Pension Fund.
Advantages within the Government Pension Fund for borrowing, insurance and pension
Creative and collegial working environment
A workplace with steady progressive development
Flexible working hours
Active university sports team
General information
Applications will be assessed by an expert committee. The applicants will be informed of the committees' assessment. As part of the overall assessment of applicants' qualifications, an interview may be required.
The person who is appointed must abide by the applicable laws, agreements, and directives. The responsibilities and duties associated with the position may change with future reorganization at Nord University.
The public sector workforce is expected to reflect the diversity of the population in general. Nord University therefore encourages qualified candidates with disabilities, gaps in their CV, immigrant backgrounds or different life experience to apply. Nord University practices moderate allocation according to gender quotas in accordance with the Basic Agreement for State Employees.
If applicants indicate they have disabilities or gaps in their CV, their details may be used anonymously for the purposes of recording whether this target is achieved or not.
Contact information
For further information about the positions, prospective applicants can direct their questions to:
Head of Division, Associate professor Karin Wigger, [email protected], tel. +47 75 51 78 59
For administrative matters, contact Ellen Abelgård, [email protected], tel. +47 75 51 76 68
Application
Applications must be submitted electronically by August 31th 2022.
Applicants for the position are requested to send:
An application in which they clearly state their motivation for applying
A complete CV (education, work, research and teaching experience and a list of scientific publications)
A feasible project plan, including publication of scientific articles. The plan must contain research ideas that in their content and/or research method differ from the candidate's doctoral thesis
Certified copies of diplomas, transcripts and references. Other activities that the applicant wishes to include in an assessment of their qualification should be documented and verifiable
A letter describing the candidate's teaching experience and potential experience in the supervision of students
Up to 5 scientific publications
Names and contact details of 1-3 references (name, relation to candidate, e-mail and telephone number)
All documents must be uploaded as attachments to the electronic application form.
It is the applicant's responsibility to submit the complete documentation within the deadline.
After the application deadline, an applicant list will be announced publicly. Applicants asking for confidentiality must specifically explain the reasons for this in their application. Even so, the information can be published if the reasons for confidentiality are not found relevant. In such the case, an applicant will be given notice prior to the announcement, and he/she will have opportunity to withdraw the application
Referanse: 30084394
fnokode:1234