Ledig stilling ved AHO
PhD - Social Sustainability and urban design in Oslo
Deadline: 23.02.2020
Oslo School of Architecture and Design - ANNUAL AHO PHD CALL 2020
About the position
AHO offers three fully funded PhD positions for the period 2020–2023 with research themes please see our website for more information about all the position.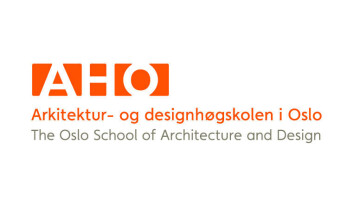 Oslo School of Architecture and Design
The Oslo School of Architecture and Design (AHO) is a specialized university and a leading international architecture and design school that provides education within architecture, landscape architecture, urbanism and design. AHOs fields of knowledge focus on design in all scales; objects, buildings, urban areas and landscaping. AHO is organized into four institutes, and has approx. 740 students and 145 employees.

The Institute of Urbanism and Landscape has a multi-disciplinary approach to education and research within the fields of urbanism and landscape architecture. Particular attention is paid to understanding change and transformation of cities and territories and to developing knowledge in order to enable strategy development and support design interventions in urban situations and landscapes. The institute has a strong international profile, with a well-established network of partner institutions within practice, teaching and research. Education activities comprise the MA in Architecture, MA in Landscape Architecture, MA in Urbanism as well as AHO's PhD programme.
AHO's Institute of Urbanism and Landscape solicits applicants with strong and original project ideas for the study of social sustainability in current landscape-based urban design. Social sustainability, a historical concern of urbanism, is in danger of being de-prioritised in the development of policies for environmentally sustainable 'green' urban form. The effects of green urban design on disadvantaged groups is often unexamined, and the cohesion of these groups – which are part of making places socially sustainable – is often undermined in the process. Within the design field, this means a potential bifurcation between concerns for social sustainability and an interest in ecological sustainability associated with landscape architecture.
The PhD fellow will critically explore social sustainability in current landscape-based urban design or urbanism practices in Oslo that reflect the particular challenges of the region. Studies should be case-based investigations of best practices or mundane urban design models - or both. Outcomes of the research might include generalised conclusions based on multiple cases or explorations of how theoretical perspectives play out in one specific instance. Results can include prototypes for landscape-based urban design or specific solutions that address social sustainability in particular neighbourhoods.
Discussion of the spatial aspects of contemporary landscape-based urban design and the theoretical positioning of current design models and practices in relation to urban sustainability are central to the theme. The PhD will build on the interdisciplinary research expertise at the Oslo Centre for Urban and Landscape Studies (OCULS) and the practice experience within urban design and urban landscape sustainability at the Institute of Urbanism and Landscape.
Requirements
Candidates must have the following qualifications:
a Master's degree in architecture, landscape architecture or urban design.
Candidates who do not have English or a Scandinavian language as their mother tongue, or who do not hold a Masters Degree where the study language is English or a Scandinavian language, must submit documentation of their proficiency in English.
Candidates should speak and read Norwegian or another Scandinavian Language.
Application
To be considered for the position please upload the following:
A cover letter (Maximum 2 A4 pages)
A Curriculum Vitae (Maximum 4 A4 pages. The cv may provide links to additional online resource demonstrating your capabilities or other relevant sources)
A project proposal (Max 1500 words, illustrated)
An example of your academic writing (3000-5000 words) .
Copies of Masters Degree certificate(s)
Please apply directly at www.jobbnorge.no
The application deadline is February 23. 2020.
Enquiries about this position should be directed to Peter Hemmersam, [email protected]
Evalutation criteriea
Applications will be evaluated based on:
The quality of the work presented in the project proposal/position paper
The formulation of a research question
The formal academic requirements for the position
The academic competence of the applicant and the applicant's suitability within the context of the institute's educational environment
Conditions
The PhD fellowship is fully funded and there is no tuition fee.
The salary is NOK 479 600 for a full position, extensive relevant experience can give a higher start salary. From the salary, there will be a mandatory deduction of 2% as a contribution to the State Pension fund (SPK). Standard employment conditions for state employees in Norway apply for the position.
An annual sum of 20 000 NOK is provided for literature and other necessary academic activities. Office space and personal computer provided.
The fellowship offer is conditional on the applicant being accepted to the AHO Phd Programme.
The educational component in the AHO PhD Programme is mandatory and requires fulltime attendance.
Residency in Oslo for the employment period is mandatory except where secondments in other institutions are agreed as part of the fellowship position.
The PhD fellowship will start on September 1. 2020.
More information about the PhD Programme at AHO can be found at https://aho.no/en/content/phd-program.
For questions about the AHO PhD Programme contact Tim Anstey [email protected] and Reier Møll Schoder [email protected]