Ledig stilling ved AHO
PhD - by Practice
Deadline: 23.02.2020
Oslo School of Architecture and Design - ANNUAL AHO PHD CALL 2020
About the position
AHO offers three fully funded PhD positions for the period 2020–2023 with research themes please see our website for more information about all the position.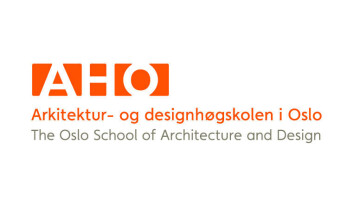 Oslo School of Architecture and Design
The Oslo School of Architecture and Design (AHO) is a specialized university and a leading international architecture and design school that provides education within architecture, landscape architecture, urbanism and design. AHOs fields of knowledge focus on design in all scales; objects, buildings, urban areas and landscaping. AHO is organized into four institutes, and has approx. 740 students and 145 employees.

Institutt for arkitektur har ansvar for undervisning, forskning og formidling innen arkitektur med særlig vekt på prosjektering av bygninger, som er et kjerneområde i sivilarkitektutdanningen. Fagfeltet er arkitektur i hele sin bredde, og innebærer en kunstnerisk, fortolkende og utforskende dimensjon som inkluderer, men også overskrider det rent byggetekniske. Instituttet har et særlig ansvar for å lede det igangsatte program for utviklingsarbeid gjennom "Research by Design", i tråd med regjeringens arkitekturmelding. Staben teller omtrent 25 personer, inkludert stipendiater og timelærere.
AHO's Institute of Architecture solicits applications from practicing architects who wish to take on an academic PhD study based on their own practice. One of the ways knowledge is produced in architecture is through the work of practitioners. While the knowledge that a practice develops may be tacit, the research that informs it can seek explicit communicable findings whose criteria and form meet the standards of rigorous academic research. This Phd fellowship allows a qualified practitioner to critically engage with architectural discourse and with a corpus of built work, whether historical or contemporary.
The practice-based PhD is predicated on the presence of research questions in the design work of the applicant. The ideal candidate will be able to articulate definite areas of research that lie outside the day-to-day demands of practice, and which require a critical conversation with the discipline in order to be addressed. The goal of the research should to advance understandings of the ways in which research and practice are mutually beneficial. Applicants should define research questions relating to their practice in their application. The candidate will engage in research through work in practice — whether through commissioned work or paper projects — in order to create a framework for formalized reflection on practice-based processes.
The selected candidate will be supervised by a team that combines practice and academic expertise, who will support the definition of the theoretical framework around the project. The goal of the PhD is a dissertation that includes both academic research and design work.
Academic requirements
Candidates must hold a professional master's degree in architecture.
Candidates must have practiced architecture, preferably through their own practice, for 5-10 years and should be able to present relevant examples of built work.
Candidates who do not have English or a Scandinavian language as their mother tongue, or who do not hold a Masters Degree where the study language is English or a Scandinavian language, must submit documentation of their proficiency in English.
Application
To be considered for the position please upload the following:
A cover letter describing (Maximum 2 A4 pages)

what makes your previous experience relevant for this position
how your work presents a research question
what are your motivations for applying for this position
A Curriculum Vitae (Maximum 4 A4 pages. The cv may provide links to additional online resource demonstrating your capabilities or other relevant sources).
An annotated portfolio, which presents your work in the context of a research problem you wish to address (Maximum 10 A4 pages) .
Copies of Masters Degree certificate(s)
Enquiries about this position should be directed to:
Please apply directly at www.jobbnorge.no
The application deadline is February 23. 2020.
Evalutation criteriea
Applications will be evaluated based on:
The quality of the work presented in the project proposal/portfolio
The formulation of a research question
The formal academic requirements for the position
The academic competence of the applicant and the applicant's suitability within the context of the institute's educational environment
Conditions
The PhD fellowship is fully funded and there is no tuition fee.
The salary is NOK 479 600 for a full position, extensive relevant experience can give a higher start salary. From the salary, there will be a mandatory deduction of 2% as a contribution to the State Pension fund (SPK). Standard employment conditions for state employees in Norway apply for the position.
An annual sum of 20 000 NOK is provided for literature and other necessary academic activities. Office space and personal computer provided.
The fellowship offer is conditional on the applicant being accepted to the AHO Phd Programme.
The educational component in the AHO PhD Programme is mandatory and requires fulltime attendance.
Residency in Oslo for the employment period is mandatory except where secondments in other institutions are agreed as part of the fellowship position.
The PhD fellowship will start on September 1. 2020.
More information about the PhD Programme at AHO can be found at https://aho.no/en/content/phd-program.
For questions about the AHO PhD Programme contact Tim Anstey [email protected] and Reier Møll Schoder [email protected]