Ledig stilling ved AHO
Professor / Associate Professor - Theory and Criticism of Contemporary Built Work
Deadline: 15.01.2020
About the position:
The Institute of Architecture at the Oslo School of Architecture and Design (AHO) calls for applications for a permanent position as Professor/Associate Professor with a focus on Theory and Criticism of Contemporary Built Work. We understand the scope of the position to include research into buildings of the present day as well as the recent past, and include a special focus on the Norwegian and Scandinavian scene.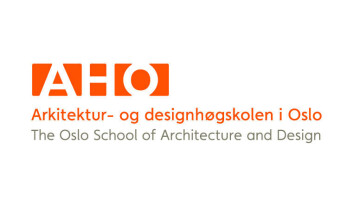 Oslo School of Architecture and Design
The Oslo School of Architecture and Design (AHO) is a specialized university and a leading international architecture and design school that provides education within architecture, landscape architecture, urbanism and design. AHOs fields of knowledge focus on design in all scales; objects, buildings, urban areas and landscaping. AHO is organized into four institutes, and has approx. 700 students and 145 employees.

The Institute of Architecture teaches and researches architectural design through a series of focal areas including space and technique, ecology, professional practice, housing and artistic research. The Institute sees architecture in an artistic, explorative and critical sense that includes but also exceeds the technologies of design and building. Through numerous master studios and a research-based approach to teaching, the Institute provides core architectural competence in a 5½ year Master.
The Institute of Architecture at AHO has as its objective to foster an environment in which the education of the architect and research into architecture complement each other through a combination of teaching-based research and research-informed teaching. It aims to educate reflective and technically competent practitioners in architecture of international standing and to carry out research in architecture that expands the scope of architectural knowledge. This position will be integral to the development of the research profile of the Institute.
Qualifications:
Candidates must have a degree in architecture and attained excellence in teaching, research, and publication.
They should:
possess a PhD in architecture theory or contemporary architecture
produce excellent work in architectural theory and criticism
have experience in organizing and implementing collaborative research projects
have successfully attained or have clear plans for obtaining external funding
be willing and able to interact with professors of design studios and other centers within the school, such as OCCAS
have documented experience in teaching at the university level
write excellent English prose
Responsibilities:
We are looking for a highly-motivated and internationally-oriented candidate to:
lead the development of a research programs in collaboration with other faculty at the school
supervise doctoral students and participate in the PhD teaching activities held at AHO
teach an (6 ects) course on contemporary architectural history and criticism at the Master Level, in order to provide students with the ability to undertake critical research into contemporary theory and to apply this knowledge in their design work.
contribute to the guest studio of the Space and Technique group (www.romogteknikk.aho.no), and to enter into a dialog with invited guests about their work
contribute to the development of the institute, working closely with the Space & Technique group.
Evaluation Criteria:
The applications will be evaluated against the following criteria:
Quality and originality of published work
Experience in the organization and implementation of collaborative research projects
Relevance of proposed research themes
Teaching experience and the results thereof
Extended experience from supervision of students at all levels
Basic competence in pedagogy. The successful candidate who at the time cannot document basic teaching qualifications in accordance with AHOs requirements, will be required to obtain such qualifications within a two-year period.
The Application should contain:
a letter of application
CV, list of publications, and details of teaching experience
a sketch of a proposed research project that responds to the job description above
copies of a maximum of five publications that represent the candidates best work
three academic references
More details:
Questions regarding the professorship can be addressed:
The position is remunerated on the Government scale at code 1013 Professor, NOK 723 200 - NOK 883 100 or 1011 Associate Professor, NOK 605 500 - NOK 723 200. Normal government regulations applies, i.e. 2 % of gross salary will be deducted as contribution to the National Retirement Fund.
In the light of a personnel policy aiming at a working staff which reflects the composition of the population in general as regards gender andcultural diversity, women and persons with a minority background are particularly encouraged to apply for the position.More information about AHO at www.aho.no.