LEDIG STILLING VED UNIVERSITETET I AGDER
Professor in Information Systems
Deadline: 06.01.2023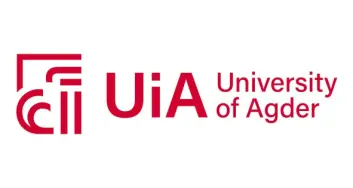 University of Agder
The University of Agder has more than 1500 employees and almost 14 000 students. This makes us one of the largest workplaces in Southern Norway. Our staff research, teach and disseminate knowledge from a variety of academic fields. Co-creation of knowledge is our common vision. We offer a broad range of study programmes in many fields. We are situated at two modern campuses in Kristiansand and Grimstad respectively.

We are an open and inclusive university marked by a culture of cooperation. The aim of the university is to further develop education and research at a high international level.
About the position
Up to two permanent 100 % positions are available at the University of Agder, Faculty of Social Sciences, as Professor in Information Systems, at the Department of Information Systems. The positions are located at Campus Kristiansand. The starting date is negotiable with the faculty.
Department of Information Systems has twenty-seven permanent employees in teaching and research positions, fourteen PhD-candidates, two in Post. Doctor positions and seven adjunct professors. The department offers a one-year program, and a bachelor-, master- and PhD-degree in Information Systems, and a master´s degree in cyber security in collaboration with Department of ICT at Campus Grimstad. Further, the department offers courses in the teacher´s education and in the master´s program in Health- and social informatics, and further education in Information Systems.
Faculty of Social Sciences has four departments, Department of Global Development and Urban Planning, Department of Information Systems, Department of Political Science and Department of Sociology and Social Work.
Responsibilities
The department is looking for professors in Information Systems, who can contribute to the Department's research and teaching, included our offerings in further education. The one(s) who is appointed will work with the department's research group on Systems Development or one of the research centers that the department is affiliated with:
Centre for Digital Transformation (CeDIT)
Centre for Integrated Emergency Management (CIEM)
Centre for e-Health
The departments.
Required qualifications
The criteria of employment are pursuant to the Regulations concerning appointment and promotion to teaching and research posts.
Criteria for educational competence for appointment as Professor at UiA.
Applicants who are unable to document such basic educational competence at the time of their appointment, will be required to obtain it within a period of two years, possibly by completing UiA's basis course in university education.
Applicants must hold a PhD in Information Systems or a corresponding field and have knowledge/experience within one or more of the following fields:
ICT for Development
system development
digital transformation
e-health
crisis information management/cyber security
Fluency in English, both written and oral, is a prerequisite.
The working language at the University of Agder is Norwegian. The University of Agder will facilitate the completion of courses in Norwegian. Permanently employed staff is expected to be proficient in Norwegian within three years.
Desired qualifications
The one(s) appointed will be expected to have
made an impact through their research either by contributing to theory development or research methods
made an impact through publications and editorial work in the top journals, in information system, based on the international rankings (including Association of the Information Systems and Association of Business Schools Journal Guide)
experience in leading research groups
experience in funded research projects
good communicative skills
Personal qualities
We will also emphasize cooperative skills. Personal qualities and suitability for the position will be emphasized.
An extensive evaluation of the applicants' scientific qualifications and merits constitutes the base for the decision on appointment. University of Agder has signed the DORA declaration.
We offer
a variety of responsibilities in a large, exciting, and socially influential organization
a position with opportunities for development in a diverse environment
modern facilities and a comprehensive set of welfare offers
membership of the Norwegian Public Service Pension Fund
The position is remunerated according to the State Salary Scale, salary plan 17.510code 1013Professor, NOK 850 000– 930 000 gross salary per year. Higher salary grades may be considered for particularly well-qualified applicants. A compulsory pension contribution to the Norwegian Public Service Pension Fund is deducted from the pay according to current statutory provisions.
General information
UiA is an open and inclusive university. We believe that diversity enriches the workplace and makes us better. We, therefore, encourage qualified candidates to apply for the position independent of gender, age, cultural background, disability or an incomplete CV.
Women are strongly encouraged to apply for the positions.
The successful applicant(s) will have rights and obligations in accordance with the current regulations for the position, and organizational changes and changes in the duties and responsibilities of the position must be expected. The engagement is to be made in accordance with the regulations in force concerning the acts relating to Control of Export of Strategic Goods, Services and Technology. Appointment is made by the University of Agder's Appointments Committee for Teaching and Research Positions.
Short-listed applicants will be invited for interviews and a demonstration of their teaching competency, usually in the form of a trial lecture. With permission from the applicant the university also will conduct a reference check before appointment. The final recommendation will be an overall assessment based on the expert assessment, the trial lecture, the interview(s), and references. Read more about the employment process.
In accordance with the Freedom of Information Act § 25 (2), applicants may request that they are not identified in the open list of applicants. The University, however, reserves the right to publish the names of applicants. Applicants will be advised of the University's intention to exercise this right.
Application
The application and any necessary information about education and experience (including diplomas and certificates) are to be sent electronically. Use the link "Apply for this job."
The following documentation must be uploaded electronically:
CV
Diplomas and certificates
List of publications
Academic articles (no more than 10)
Possible documentation of educational competence
Possible other attachments
The applicant is fully responsible for submitting complete digital documentation before the closing date. All documentation must be available in a Scandinavian language or English.
Closing date: 06.01.2023.
Contact
For questions about the position:
For questions concerning the hiring process:
Senior advisor Anna Cecilie Eye Færavaag, tel. +47 38 14 24 14, e-mail [email protected]