LEDIG STILLING VED UNIVERSITETET I AGDER
PhD Research Fellow in Cybersecurity and Information Systems
Deadline: 30.06.2022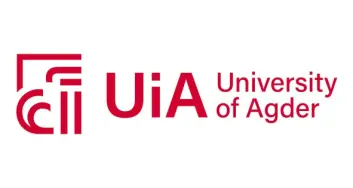 University of Agder
The University of Agder has more than 1500 employees and almost 14 000 students. This makes us one of the largest workplaces in Southern Norway. Our staff research, teach and disseminate knowledge from a variety of academic fields. Co-creation of knowledge is our common vision. We offer a broad range of study programmes in many fields. We are situated at two modern campuses in Kristiansand and Grimstad respectively.

We are an open and inclusive university marked by a culture of cooperation. The aim of the university is to further develop education and research at a high international level.
About the position
A 100 % position is available at the University of Agder, Faculty of Social Sciences as a PhD Research Fellow in Information Systems, affiliated to the Department of Information Systems, for a period of three years, or four years with 25 % required duties. The position is located at Campus Kristiansand, Norway.
The preferred starting date is during September 2022.
This position is related to the Centre for Integrated Emergency Management (CIEM), which is a Priority Research Centre at the University of Agder. CIEM conducts interdisciplinary research on technology-based innovation for societal resilience, in close collaboration with emergency management stakeholders.
The Department of Information Systems provides teaching and research at the intersection of technology, organisation and business administration. With around 45 employees (Professors, Associate Professors, Post-docs, Research Fellows and administrative staff), the department is one of the largest information systems research groups in Norway.
Responsibilities
The ongoing processes of digitalization together with the decentering of organizations are introducing new security risks in our society and challenging current information management practices. An increasing number of essential services is provided by digital ecosystems where several parties engage in dynamic collaborations by sharing and exchanging information. Information is no longer confined within the boundaries of an organization but flows through increasingly complex infrastructures providing services across geographical boundaries and industrial sectors. Controlling the information flows in such digital infrastructures is a precondition for the existence of digital ecosystems, and also plays an important role for societal resilience.
Digital infrastructures are means for organizational rationalization and also resources through which organizations inform their decisions and act upon contingencies they confront. However, managing information flows in digital infrastructures is also critical to avoid breakdowns of digital ecosystems due to cybersecurity failures. In fact, the same digital tools used to inform decisions are vulnerable to cybersecurity threats that may have serious organizational consequences, especially when critical processes rely on digital technologies. The impact of cybersecurity incidents can also be amplified by the cascading effects in today's digital service ecosystems where failures can spread across several interconnected parties and infrastructural components. These issues warrant rethinking cybersecurity in digital infrastructures in order to attain resilience at ecosystem level.
The PhD research project is expected to focus on management issues of cybersecurity in digital ecosystems through the development of security management practices and methods for securing information flows in inter-organizational multistakeholder settings. Reflecting this aim of the research project, we are looking for candidates interested in the cybersecurity management issues (e.g., policies, processes, procedures, coordination) rather than purely technology-focused candidates. The PhD candidate will work in an interesting and engaging environment as part of the cybersecurity research team in CIEM, and will interact with multiple stakeholders such as providers of digital services and critical infrastructures, public administrations, and data owners. The empirical part of the project will be conducted as a field study in which emerging digitally enabled phenomena will be investigated. The exact focus of the PhD research project will be developed together by the candidate and supervisors to ensure optimal match between CIEM's needs and the candidate's ambitions and expertise.
Required qualifications
Further provisions relating to the positions as PhD Research Fellow can be found in the Regulations Concerning Terms and Conditions of Employment for the post of Post-Doctoral Research Fellow, Research Fellow, Research Assistant and Resident.
The applicants must qualify for admission to the faculty PhD Programme in the Faculty of Social Sciences, with a specialisation within Information Systems, and must hold a master's degree or equivalent in a relevant area of study, with an average grade of B or better. Applicants who are in the process of finishing their master's thesis are also welcome to apply for this position. More details to be found here.
Applicants must submit a project proposal whose scope lies within the abovementioned areas of priority. The project proposal should comprise a maximum of ten pages in length, including the reference list. The proposal must contain a preliminary presentation of the problem area, theoretical foundation, methodological approach, and planned progression for the doctoral project. The quality of the project proposal will receive a high level of consideration during the application assessment process. Fluency in written and oral English is a prerequisite.
The University, on its side, is committed to securing good supervision for the successful applicants.
Desired qualifications
Candidates that can document knowledge and experience in one or more of the following areas will be preferred:
Cybersecurity processes, tools, and practices
Enterprise architectures, distributed systems, and decentralized infrastructures
Social science theories such as sociotechnical systems, decision making theories, complexity theories, transaction cost economics.
Social science research methods, such as case study research, design science research, ethnography, action research, and surveys.
Personal qualities
The appointee must have the ability to work in a goal-oriented, organised, focused and independent manner. During the assessment process, emphasis will be placed on the applicant's examination results as well as any previous research and development work. Relevant practical experience, personal suitability and good teamwork skills will also be emphasised.
We offer
The appointee must have the ability to work in a goal-oriented, organised, focused and independent manner. During the assessment process, emphasis will be placed on the applicant's examination results as well as any previous research and development work. Relevant practical experience, personal suitability and good teamwork skills will also be emphasised.
We offer:
professional development in a large, exciting and socially influential organisation
a positive, inclusive and diverse working environment
modern facilities and a comprehensive set of welfare offers
membership of the Norwegian Public Service Pension Fund
The position is remunerated according to the State Salary Scale, salary plan 17.515, code 1017 PhD Research Fellow, 501 200 NOK gross salary per year. A compulsory pension contribution to the Norwegian Public Service Pension Fund is deducted from the pay according to current statutory provisions.
General information
UiA is an open and inclusive university. We believe that diversity enriches the workplace and makes us better. We, therefore, encourage qualified candidates to apply for the position independent of gender, age, cultural background, disability or an incomplete CV.
Female candidates are strongly encouraged to apply for the position.
The successful applicant will have rights and obligations in accordance with the current regulations for the position, and organisational changes and changes in the duties and responsibilities of the position must be expected. Appointment is made by the University of Agder's Appointments Committee for Teaching and Research Positions.
Short-listed applicants will be invited for interview. With the applicant's permission, UiA will also conduct a reference check before appointment. Read more about the employment process.
In accordance with the Freedom of Information Act § 25 (2), applicants may request that they are not identified in the open list of applicants. The University, however, reserves the right to publish the names of applicants. Applicants will be advised of the University's intention to exercise this right
Application
The application and any necessary information about education and experience (including diplomas and certificates) are to be sent electronically. Use the link "Apply for the position".
The following documentation must be uploaded electronically:
Certificates with grades
Master's thesis
References
Academic work and R&D projects, as well as a list of these
Project description with a maximum scope of 10 pages, including reference list.
The applicant is fully responsible for submitting complete digital documentation before the closing date. We draw your attention to the fact that we cannot, unfortunately, include you in the assessment process if attachments are missing. All documentation must be available in a Scandinavian language or English.
Application deadline: June 30th 2022
Contact
For questions about the position:
Associate Professor Marko Niemimaa, Department of Information Systems/CIEM, phone (+47) 38 14 18 42, e-mail [email protected]
Associate Professor Paolo Spagnoletti, Department of Information Systems/CIEM, phone (+39) 34 73 12 35 60, e-mail [email protected]
Professor Bjørn Erik Munkvold, Head of the PhD specialisation in information systems and Director of CIEM, phone (+47) 38 14 11 59, e- mail [email protected]
For questions about the application process: