LEDIG STILLING VED UNIVERSITETET I AGDER
PhD Research Fellow in ICT - Faculty of Engineering and Science
Deadline: 10.08.2022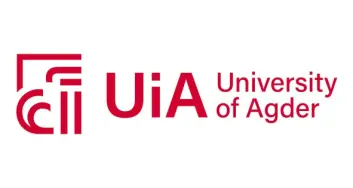 University of Agder
The University of Agder has more than 1500 employees and almost 14 000 students. This makes us one of the largest workplaces in Southern Norway. Our staff research, teach and disseminate knowledge from a variety of academic fields. Co-creation of knowledge is our common vision. We offer a broad range of study programmes in many fields. We are situated at two modern campuses in Kristiansand and Grimstad respectively.

We are an open and inclusive university marked by a culture of cooperation. The aim of the university is to further develop education and research at a high international level.
PhD Research Fellow in ICT - Deep learning-based analytics for audiences and guests engagement in the entertainment industry in the context of a multiformat universe
About the position
A fixed-term 100% position is available at the University of Agder, Faculty of Engineering and Science as a PhD Research Fellow in ICT, affiliated to the Department of Information and Communication Technology for a period of three years. The position is located at Campus Grimstad, Norway, but the candidate is expected to spend substantial time with a research partner InFuture in Oslo, Norway, and at Dyreparken in Kristiansand, Norway. The starting date is as soon as possible or by agreement with the Faculty.
Responsibilities
The candidate should address issues related to artificial intelligence and data for culture production, and particularly deep learning recommendation models for complex user scenarios.
This open position is in association with the Centre for Artificial Intelligence Research (CAIR) at the University of Agder and in close collaboration with partners InFuture, Dyreparken and Qvisten Animation from a funded research project AI for Multiformat Universe (AIM). The project aims at developing and verifying new methods for the development, production, and and delivery of culture products part of a multiformat universe.
The candidate will explore the potential of deep neural network-based methods for multiformat analytics, i.e., a combination of sensors, cameras, measuring instruments, and audience surveys. The candidate will establish, implement and test machine learning algorithms to build new insights from the physical and digital data sources that simultaneously safeguard privacy. The key to the project is to establish and verify a machine learning-based data architecture with manual and automatic capture of data from various internal and external data sources for implementation to provide customer insight for Dyreparken and Qvisten.
Potential research topics for the Ph.D. thesis are:
Deep Learning-based multiformat analytics, through planning and forecasting.
User-based and model-based collaborative analysis.
Video-, sound-, and feature-based machine learning for customer engagement.
Implementation and testing recommendation model on user behavior.
Required qualifications
Master's degree in ICT, Computer Science or a similar/related field and document competence in areas relevant to the position. Candidates who are in the closing stages of their master's degree can also apply. Applications from applicants who already hold a PhD will normally not be considered.
The ideal candidate will have expertise in the following areas:

Software development
Machine Learning in general and Deep Neural Networks in particular
Multiformat and multimodel analytics
Cross-discipline collaboration
Analytics experience from real customers and user data

Strong academic credentials
Communication and teamwork skills
Written and spoken English proficiency. International candidates that are not exempt from the English language requirements pursuant to the guidelines of the Norwegian Agency for Quality Assurance in Education (NOKUT) must document this through one of the following tests with the stated results or better:

TOEFL - Test of English as a Foreign Language with a minimum score of 600 for the Paper-based Test (PBT), or 92 for the Internet-based Test (iBT)
IELTS - International English Language Testing System, with the result of 6.5
A prerequisite for employment is that the candidate is to be admitted to UiA's PhD programme at the Faculty of Engineering and Science, Specialisation in Information- and Communication Technology (ICT).
Further provisions relating to the positions as PhD Research Fellows can be found in the Regulations Concerning Terms and Conditions of Employment for the post of Post-Doctoral Research Fellow, Research Fellow, Research Assistant and Resident.
Personal qualities
Personal suitability, good teamwork skills, inventiveness, and a proactive approach, will be emphasized in the evaluation as well as relevant practical experience. The PhD Research Fellow will be expected to contribute to an active research community that promotes the personal and professional growth of the doctoral candidate. The position places great demands on the applicant's capacity for independent goal-oriented work, ability to concentrate and attention to detail.
In return, we offer the opportunity to contribute to the strategic capabilities of a world-class research organization, along with intensive PhD supervision. You will collaborate with top scientists in your field and have excellent prospects for personal development in an innovative working environment for aspiring researchers. Applicants will be assessed on the basis of academic background and results, attainment, and any previous research and development work.
We offer
Training to publish in the top journals and conferences in the covered areas.
Professional development in a large, exciting and socially influential organisation
A positive, inclusive and diverse working environment
Modern facilities and a comprehensive set of welfare offers
Membership of the Norwegian Public Service Pension Fund
The position is remunerated according to the State Salary Scale, salary plan 17.515, code 1017 PhD Research Fellow, NOK 501 200 gross salary per year. A compulsory pension contribution to the Norwegian Public Service Pension Fund is deducted from the pay according to current statutory provisions.
General information
UiA is an open and inclusive university. We believe that diversity enriches the workplace and makes us better. We, therefore, encourage qualified candidates to apply for the position independent of gender, age, cultural background, disability or an incomplete CV.
Women are strongly encouraged to apply for the position.
The successful applicant will have rights and obligations in accordance with the current regulations for the position, and organisational changes and changes in the duties and responsibilities of the position must be expected. The engagement is to be made in accordance with the regulations in force concerning the acts relating to Control of the Export of Strategic Goods, Services and Technology. Appointment is made by the University of Agder's Appointments Committee for Teaching and Research Positions.
Short-listed applicants will be invited for interview. With the applicant's permission, UiA will also conduct a reference check before appointment. Read more about the employment process.
In accordance with the Freedom of Information Act § 25 (2), applicants may request that they are not identified in the open list of applicants. The University, however, reserves the right to publish the names of applicants. Applicants will be advised of the University's intention to exercise this right.
Application
The application and any necessary information about education and experience (including diplomas and certificates) are to be sent electronically. Use the link "Apply for this job".
The following documentation must be uploaded electronically:
Certificates and/or grades for all post-secondary education, up to and including the bachelor's level;
Master's degree/higher degree certificate, with a summary of the courses/subjects included in the degree;
Applicants with a foreign higher education must attach an official description of the grading system used at the issuing institution;
Summary (approximately 1-2 pages) of the master's thesis;
Applicants who are required to document their English proficiency must submit their TOEFL or IELTS test results (these may be forwarded after the closing date);
Summary or links to the applicant's scientific publications (if any);
A description of the candidate's research interests and background for the project applied for.
The applicant is fully responsible for submitting complete digital documentation before the closing date. All documentation must be available in English or in a Scandinavian language.
Application deadline: 10.08.22
Contact
For questions about the position:
For questions about the application process: